Services / Rates
In Home Pet and/or House Sitting Visits
Choose from up to 1/2-hour to one-hour visits. Includes feeding, watering, meds and treatments, mail and newspaper pickup, watering plants, alternating lights, and lots of love and attention!
Up To 1/2 Hour: $20.00
One Hour: $32.00
Midday Dog Walks
Choose from 1/2-hour to one-hour walks between 10 a.m. and 3 p.m. You pick the days that work with YOUR schedule.
1/2 Hour: $20.00
One Hour: $32.00



"Pet Taxi" Service
Can't find time to get FiFi to the groomer? Having trouble getting Fritzie to the doggie daycare before playtime? Fido needs his shots and you can't make it to the vet appointment? No problem. We'll be glad to drop off and/or pick up your pet anywhere within a 10 mile radius of your home!
Drop off or pick up- each way:
$20.00
"Poop Patrol"
Guests are coming for a barbeque, you're running behind schedule, and the yard is a "minefield"! Or...it's the kids' job to clean Fido's mess by it hasn't happened in weeks! Or...you love your dog but hate the "poop pickup part". For a small fee, we'll come to your rescue - and alert you to any unusual findings as well!
Starts at $15.00
Call for free estimate / consultation

Overnight Stays
For those pets that need extra love and attention and someone to cuddle with at night, we will stay at your home while you are away and keep the daily routine as seamless as possible. We promise to clean up after ourselves too!
Available on a limited basis only.
$70.00
Fee is per night. Stays after noon will be charged for another night's stay.
Additional animals per visit (more than 2 cats or 2 dogs - call for an estimate)
Starts at: $5.00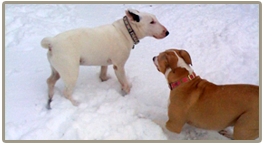 A $20.00 per visit surcharge will be added to the following holidays: New Years Eve, New Years Day, Christmas Eve, Christmas Day, Thanksgiving, Easter, Memorial Day, Independence Day, Labor Day.
A $10.00 key pickup and return fee will be charged to those who wish to have their keys returned after the job is finished.

All prices are subject to applicable taxes. Prices subject to change.